Raw
The Raw energy kitchen is definitely something that takes a while to get used to, but once you are set up, there are thousands of delicious meals and snacks to be had.
It's not all about replacing cooked foods, raw recipes are tasty and nutritious in their own right. For me, if you have to get that vegan or vegetarian bacon substitute that looks like bacon and is shaped like bacon, it's kind of missing the point. That stuff is still heavily processed in a factory somewhere.
I prefer to find alternatives like Haloumi or home dehydrated Aubergine slices. Of course I also don't have a problem with the bacon in the first place – I am just taking advantage of the raw kitchen for super health. If I do decide to eat the non vegetarian versions I always buy from local farms and not from mass produced supermarket shelves.
Raw Food Recipes
In this section you will find: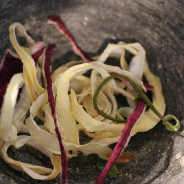 I still cannot get over how amazing it is to have a dehydrator. The first thing I thought of was making vegetable chips (Kale & Parsnip please!), then how to make them more tasty. The same way they make regular chips tasty, salt, pepper & Seasoning. What makes seasoning? Vegetable powder! Check any pack of crisps or chips and they use onion powder, garlic powder, celery powder, yeast extract, paprika, dried red pepper, dried chilli, dried yoghurt, dried lemon, dried chives and a host of other things, so I thought – ok powder not...
read more