I tried store bought nut milk but I got a migraine the first time I tried Almond Milk. They also taste a bit powdery to me.
I was told by colleague that the store nut milks often have fillers in so that could be the cause of the headaches. They urged me to try and make my own. Why bother I thought – but much as I would happily live on soya milk – that is also not that great for you and Almond milk in particular provides you with a low carb, low sugar beverage packed with things like calcium, Vitamin D, Vitamin E, Vitamin A and plenty of B vitamins and Iron.
Fascinated as I am with brewing- it turns out there are also many ways to ferment and create nut cheeses – each with it's own distinct characteristics, so I have dedicated an entire section.
I'm not trying to be totally dairy free BTW, I just want to cut down and find alternatives that are so delicious there is no pain to cut it out but in doing so, I should find some great dairy free recipes for y'all to follow!
Nut Milks & Cheeses
In this section you will find:
Almond Milk / Cream
Cashew Milk / Cream
Nut Cheeses (various)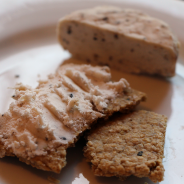 Fermentation Stage – Beginner… Since I've been going on about how home made Almond milk is so much nicer than store bought, I've also been asked what to do with the Almond pulp and the answer is of course… MAKE CHEESE! It's a great dairy free alternative and you can add pretty much anything to it. If you want a richer cheese and don't want to make milk then use the whole almonds, but as far as I am concerned the cheese is a by product of something else. If you're going to dehydrate it afterwards...
read more
So Easy, so delicious! Having tasted store bought I was not really taken with Almond Milk – a bit powdery and a bit erm – bland? BUT – Make it yourself and you can choose the consistency and the 'creaminess' and now I know what all the fuss is about. Not only is it LUSH, I will happily drink a glass of this as a milk substitute without wondering why healthy stuff after all these decades still doesn't taste much better or has tonnes of sugar in. How to make Almond Milk 1. Soak Almonds over night in filtered...
read more