Spiralizer / Vegetable Slicer
An essential kitchen tool for raw and cooked food.
I had not tried vegetable noodles before but my goodness they are AWESOME.
I have totally forsaken pasta and even trying to make gluten free noodles and now just spiralize the hell out of Courgettes (Zuchinni) every night!
I spent a long time looking at reviews and to be honest none of them were that good on YouTube but after much deliberation, I chose the Benriner Japanese Pro Spiralizer as it just looked more sturdy. It is a little more expensive but way less faffing around than assembling bits of plastic and so far no complaints!
I have tried cold and hot sauces and so far the Spaghetti Sauce with home made Tomato powder (instead of tinned puree) has been by far the most delicious – recipe coming soon!
Benriner Cook's Help Vegetable Slicer – Professional Grade
Spiralizer Recipes Below: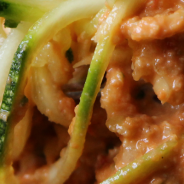 As a person that gets very bored of vegetables 'straight up', I decided to have a look around to see how I could make things a little more interesting. Apparently all you need are some specialist slicers for making vegetables into noodles so let's give it a go. After reading many reviews and watching YouTube videos – I decided to cut out the middle men and just go straight to the exotic vegetable art and noodle capital of the world – Japan. Having already purchased a supersize Benriner Mandoline Slicer a while...
read more