Juicers
I bought my original Champion Juicer in 1999 for £299 which back then was a small fortune – people thought I was crazy – one person even said 'I wish I could afford fresh pineapple juice', as she went outside to smoke 1 of a packet of 20 cigarettes that cost twice as much as the Pineapple!
With all health stuff, it depends how much you care about the opinion of others, how much you care about having the best for the sake of it, and how much you are actually going to use it. I knew I was going to use mine every day, but I didn't get the flour grinder attachment as I knew that would stay in the drawer!
14 years later, its' still whirring away, but it sounds like it needs to retire – it has been loved but now it's time to upgrade to a new Champion 2000 that cost me – well the same actually £299 – but I will use this one for another 14 years so like all household purchases, the white goods seem expensive but you don't have to buy them again for decades.
I personally would much rather have a juicer and a second hand car that gets me from A-B than a shiny new Mercedes that costs as much in petrol per week than my entire juicer! I even brought the juicer from the same people that I bought the original from who at the time had just started their juicer company.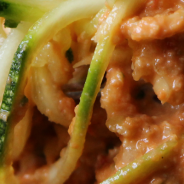 As a person that gets very bored of vegetables 'straight up', I decided to have a look around to see how I could make things a little more interesting. Apparently all you need are some specialist slicers for making vegetables into noodles so let's give it a go. After reading many reviews and watching YouTube videos – I decided to cut out the middle men and just go straight to the exotic vegetable art and noodle capital of the world – Japan. Having already purchased a supersize Benriner Mandoline Slicer a while...
read more