Although I have baked goods in here, due to a family cholestorol / heart issue, I am trying to re-educate myself into the ways of baking with alternative goods. Rather than buying packaged good for food intolerance or low fat not really that tasty cakes, I would rather experiment with 'healthy' sugar substitutes such as organic coconut sugar, fat substitutes like Benecol and wheat flour substitutes such as coconut flour, ground oats and other alternatives.
Of course cakes are always great with the real thing, but after experimentation, you can also get some pretty tasty morsels out of the oven with a few re-adjustments and even some great raw cakes – Don't knock it til you've tried it!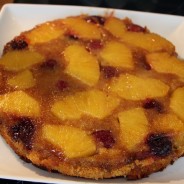 I've been trying to make healthy cakes lately so have used Benecol and wholemeal flour in this recipe and real cherries – substitute Benecol for butter if you want lighter sponge – great with custard and we like it stodgy! I use a higher flour to Benecol ratio as otherwise it is too heavy and use as much fruit as you can get in the tin as its a great way to get kids to eat it! For The Caramel Sauce Topping 50g Benecol 75g Soft Brown sugar 25g Dark Brown Molasses Sugar Handful Fresh Cherries – the darker and sweeter the...
read more